Meet the Experts at Rich's Carpet One Floor & Home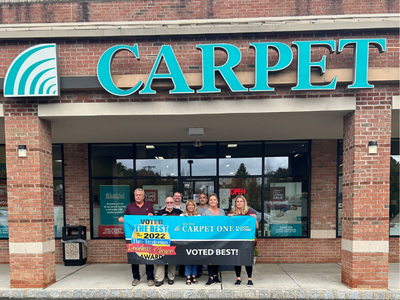 Front Row Left to Right: Rob Hafitz, Rich Linnell, Maria Toribio, Hannah Hafitz & Dawn Lippincott
Back Row Left to Right: Chris Burke & Angel Rodriguez
RICHARD LINNELL, OWNER
Rich has a lifetime of experience in flooring and is committed to Rich's Carpet One and its superior customer satisfaction.
DAWN LIPPINCOTT, OFFICE/EXECUTIVE ASSISTANT
Dawn is our rock in the office and our insurance specialist. She's your link between you and your insurance company.
ROB HAFITZ, SALES MANAGER
Rob is one of our long term veterans of the flooring industry. He will use everything in his arsenal to have your floor ordered and installed expertly.
HANNAH CLARK-HAFITZ, ASSISTANT MANAGER
Hannah's product knowledge and sense of color and design will help you select the perfect new flooring for your home.
CHRIS BURKE, SALES ASSOCIATE CERTIFIED
Chris has been at Rich's Carpet One for 2 years and has learned a lot about the flooring since being here. He is friendly and kind and takes the time to walk you through the entire sales process.
MARIA TORIBIO, SALES ASSOCIATE
Maria has been at Rich's Carpet One for 1 year now. She previously owned her own business in the flooring industry so she has years of experience and is happy to help find your flooring needs.